"A recipe has no soul. You, as the cook, must bring soul to the recipe."

– Thomas Keller
How to Grate Fresh Ginger
Lemon Meringue Pie
Lowcountry Stew Chicken
from Serious Eats
Ingredients
● 1 ½ pounds (680g) bone-in, skin-on chicken drumsticks and/or thighs
● Kosher salt and freshly ground black pepper
● 3 tablespoons (45ml) neutral oil, such as vegetable or peanut, divided
● 1 medium (8-ounce; 225g) yellow onion, thinly sliced
● 1 to 2 ribs celery (1 ½ ounces; 40g), thinly sliced
● 2 tablespoons all-purpose flour (½ ounce; 16g)
● 4 cups (1L) homemade or low-sodium, store-bought chicken stock (see note)
● 1 teaspoon garlic powder
● 1/2 teaspoon onion powder
● 1/4 teaspoon ground dried sage
● 1/4 teaspoon ground dried oregano
● 1/4 teaspoon smoked paprika
● Cooked rice, grits, or buttered pasta, for serving

Directions
1. Season chicken all over with salt and pepper. In a Dutch oven, heat 2 tablespoons (30ml) oil over
medium-high heat until shimmering. Add chicken, skin side down, and cook until well browned,
about 6 minutes. Using tongs, turn chicken and cook on opposite sides until browned, about 5
minutes longer. Remove from heat and transfer chicken to a platter. Set aside.

2. Reduce heat to medium, add onion and celery, and cook, stirring to prevent scorching, until
softened, about 5 minutes. Stir in the remaining 1 tablespoon (15ml) oil along with the flour and
cook, stirring constantly, until peanut butter or darker in color, 5-10 minutes. While stirring
vigorously, slowly add the stock. Increase heat to medium-high and bring to a boil, then boil until
slightly thickened, about 1 minute.

3. Reduce heat to medium, then stir in garlic powder, onion powder, ground sage, ground oregano,
and smoked paprika. Add the chicken pieces and return liquid to a simmer. Reduce heat to
medium-low, cover, and cook, gently stirring and scraping the bottom of the pot occasionally, until
chicken is cooked through and beginning to fall from the bone and the sauce is reduced to a thick
and silky texture, about 1 hour 30 minutes. Season with salt and pepper, to taste.

4. If desired, break apart chicken and remove bones. Serve over rice, grits, or pasta.3.
Strudel With Fried Apples
Ingredients
6 Honeycrisp apples (or whatever kind you want) cored and cut into 1/4-inch slices
1/2 cup packed light brown sugar or turbinado sugar
1 Tbsp. bacon drippings or butter or vegan butter
1 tsp. ground cinnamon, 1/2 tsp. nutmeg, 1/4 tsp. allspice
1/8 tsp. kosher salt (really just a small pinch)
1 tsp. all-purpose flour, plus more for work surface
1/2 (17.3-oz.) pkg. frozen puff pastry sheets (such as Pepperidge Farm), thawed
1 large egg
1 Tbsp. granulated sugar or sparkling sugar

Directions

Step 1 Cook apples: Cook apples, brown sugar, butter, cinnamon, and kosher salt in a large skillet over medium, stirring occasionally, until liquid has evaporated and apples soften, about 12 minutes. Add flour to mixture; toss to coat. Cook, stirring occasionally, for 1 minute. Remove from heat; let cool 20 minutes.
Step 2 Prepare puff pastry: Preheat oven to 400°F. Line a large rimmed baking sheet with parchment paper; set aside. Roll thawed puff pastry sheet into a 14- x 9-inch rectangle on a lightly floured work surface. Transfer to prepared baking sheet. Combine egg and 1 teaspoon water in a small bowl; set aside.
Step 3 Cut pastry: Using scissors and starting at 1 long edge of pastry sheet, cut 2 1/2-inch-long slits, going from the edge toward the center in 1-inch intervals to yield 14 strips. Repeat process on opposite side. Spoon the cooled apple mixture evenly down the center of the pastry sheet. Lightly brush some of the egg-water mixture over the strips on both sides.
Step 4 Wrap filling: Position the pan so that 1 short edge is facing you. Starting at the short edge farthest from you, fold the top left strip over the apples at a slight angle, slightly toward you. Repeat with right strip, overlapping the left strip. Repeat with remaining strips, going from left to right to enclose the apple filling. Brush with remaining egg-water mixture, and sprinkle with granulated sugar or sparkling sugar.
Step 5 Bake strudel: Bake in preheated oven until pastry is crisp and golden, 15 to 18 minutes. Let cool 5 minutes. Slice and serve.
Note: I don't eat bacon so I use vegan butter. I use cinnamon, nutmeg, and allspice; twice as much cinnamon as nutmeg, and twice as much nutmeg as allspice. I don't peel my apples; I use organic, pesticide-free apples.
Copycat Red Lobster Cheddar Bay Biscuits
Ingredients
3 cups biscuit/baking mix
3/4 cup shredded sharp cheddar cheese
1 teaspoon garlic powder
1 teaspoon ranch dressing mix
1 cup buttermilk
Butter-Herb Topping
1/4 cup butter, melted
1 tablespoon minced chives
1 teaspoon garlic powder
1/2 teaspoon ranch salad dressing mix
1/4 teaspoon ground black pepper
1/4 teaspoon salt
Directions
In a large mixing bowl, combine the biscuit/baking mix, shredded cheddar cheese, garlic powder, ranch powder, and buttermilk. Stir to combine until all ingredients are wet and a shaggy dough forms. Be careful not to overmix.
Preheat oven to 450°F. Then, drop heaping spoonfuls of biscuit dough onto a parchment-lined baking sheet. Leave about 2 inches between the biscuits. You should get 8 to 12 biscuits from this recipe, depending on the size of your spoonfuls.
Place the biscuits into a preheated oven and bake for 10 minutes, or until the biscuits are just starting to turn golden. Remove promptly.
While the biscuits bake, melt the butter in the microwave for 30-45 seconds at 50% power. Add the chives, garlic powder, ranch seasoning, salt, and pepper and stir to combine.
Then, while the biscuits are still warm from the oven, baste each biscuit generously with the melted herb butter. Serve warm.
Chocolate Wafer Cookies & Ice Box Cake
From Zoë Bakes on Magnolia Network
Makes about 75 1½-inch cookies, and one very large cake — you can halve for a smaller version
Chocolate Wafer Cookies
1 1/4 cups (133g) cake flour
1/3 cup (37g) unsweetened cocoa powder, preferably Dutch process
1/2 tsp baking soda
1/2 tsp kosher salt
1/2 cup (113g) unsalted butter at room temperature
1 cup (120g) confectioners' sugar
2 tsp pure vanilla extract
1. In a small bowl, whisk together the flour, cocoa powder, baking soda, and salt.
2. In the bowl of a stand mixer fitted with the paddle attachment, mix the butter, confectioners' sugar, and vanilla extract on low speed until combined. Increase to medium speed for a minute. Add the flour mixture and mix on low just until evenly combined.
3. On a sheet of plastic wrap, form the dough into a 1 1/2-inch-thick log. Wrap and refrigerate until firm, at least 1 hour. The cookie dough can be made the day before or frozen for a few weeks.
4. Preheat the oven to 350°F and line 3 baking sheets with parchment paper. Using a sharp knife, slice the dough log into thin rounds, about 1/8-inch-thick. Arrange on the baking sheets and bake for about 8 minutes or until set (they will no longer be shiny). If baking more than one sheet at a time, you may want to rotate the trays back to front and switch from top to bottom racks midway through baking. Let the cookies cool completely.
Ice Box Cake
Whipped Cream Filling:
4 cups heavy whipping cream
1/3 cup confectioners' sugar
1 Tbsp vanilla extract
Topping (optional)
2 cups heavy cream
1 tbsp confectioners' sugar or more to taste
1 tsp pure vanilla extract
Garnish:
Chocolate shavings for decorating
1. To assemble, line an 8 x 4-inch loaf pan with plastic wrap. Set aside.
2. In the bowl of a stand mixer fitted with the whisk attachment, whip the chilled cream, confectioners' sugar and vanilla on medium speed until very soft, slouchy peaks form.
3. Cover the bottom of the prepared pan with about a 1/4-inch-thick layer of the cream. Line the outside of the pan with some of the cookies. Spread a layer of the cream on each cookie and layer them together in the pan vertically. You should end up with about 3 rows of cookies and cream. This may vary slightly depending on how large your cookies are. Cover the top with more cream, so the cookies are completely covered. Add a layer of cookies, this time pressing them flat over the cream, so they are laying horizontally. Add two more layers of cream and cookies, ending with a layer of cream. Cover with plastic wrap and refrigerate the cake for at least 6 hours, but ideally overnight.
4. To make the topping: After the cake has chilled, in a stand mixer fitted with the whisk attachment, whip the heavy cream, confectioners' sugar, and vanilla on medium speed until just stiff (do not over beat). Taste and adjust the sweetness to your liking by beating in more sugar.
5. Invert the icebox cake onto a serving platter. Frost the top and sides of the cake with the whipped cream. If desired, pipe a design on the top of the cake using a pastry bag fitted with a star piping tip. Top with chocolate shavings. Serve immediately or refrigerate until ready to serve.
Notes
Chocolate wafer cookies adapted from "Zoë Bakes Cookies" by Zoë François © Ten Speed Press 2023. Provided courtesy of Zoë François. All rights reserved.
It's Blackberry season!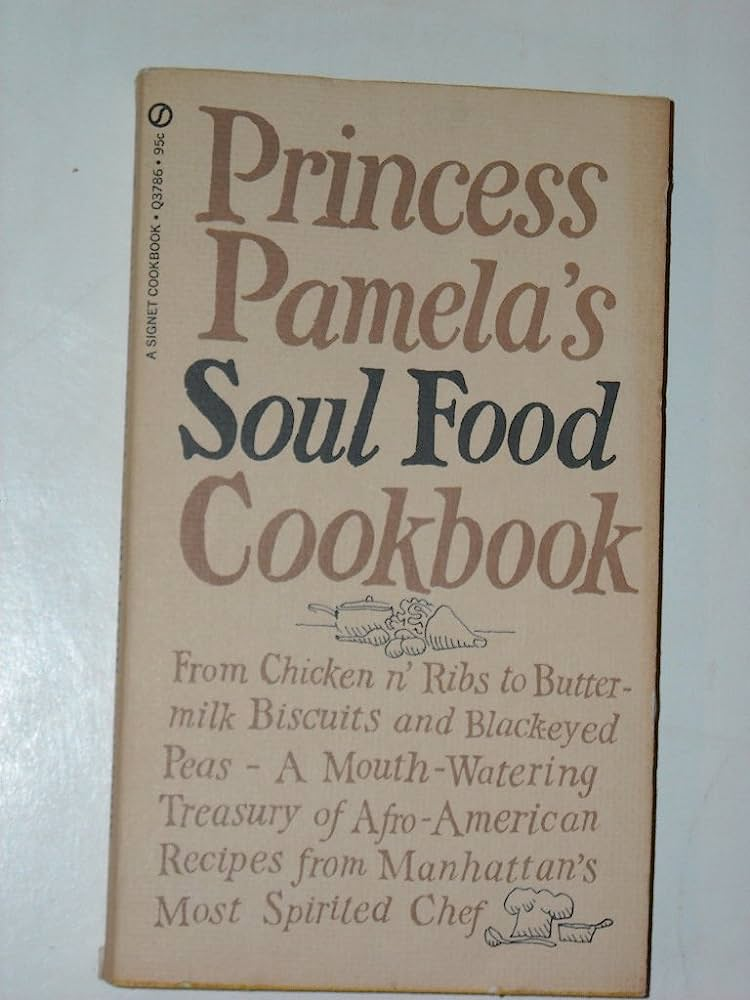 FYI: If you can find a copy of Princess Pamela's Soul Food Cookbook in a used book store (the original 1969 one, not the new edition published a few years ago), buy it. It has the simplest, most divine recipes. She makes a batter blackberry cobbler, which is delicious with vanilla ice cream. This is very similar.
When I was a kid, I used to stop at a little bakery at the foot of the stairs leading up to the train that would take me downtown to the library. I saved my money just to buy a piece of this delish pie every Saturday. When I got older and began traveling, one of the joys of going to Germany was to stop at Kamp's bakery at the airport or train station and buy a piece or two of this same pie! This is the bomb!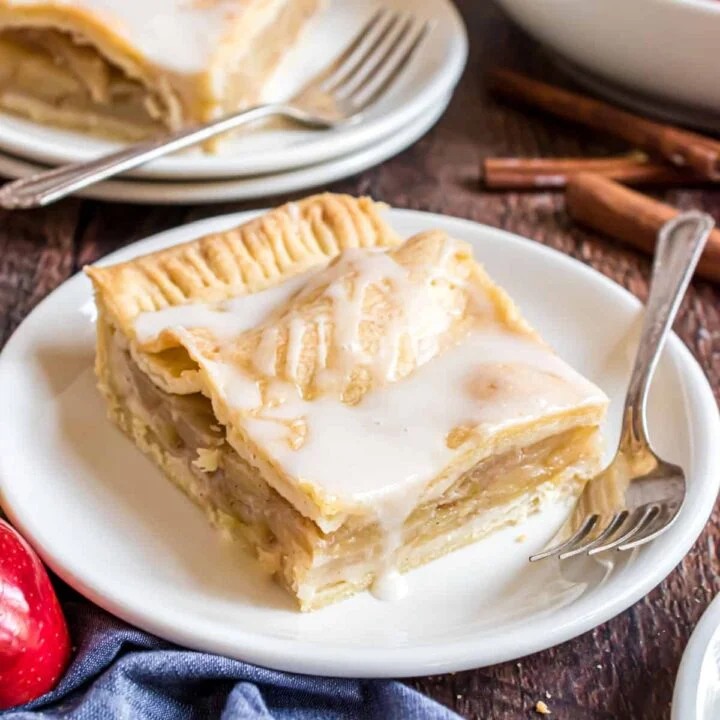 Ingredients
For the Pastry:
5 cups all-purpose flour, sifted
1 teaspoon baking powder
1 teaspoon kosher salt
1 ½ cups cold unsalted butter, cubed
3 large egg yolks, beaten
1 ¼ cup water
For the Filling:
12-14 apples (14 cups peeled, cored and sliced)
1 cup granulated sugar
⅓ cup all-purpose flour
Dash of kosher salt
2 teaspoons nutmeg, divided
2 teaspoons cinnamon, divided
4 Tablespoons unsalted butter, cubed
For the Icing:
1 cup powdered sugar
1 ½ Tablespoons milk (more to thin if necessary)
Dash kosher salt
½ teaspoon vanilla
Instructions
In a large mixing bowl, combine flour, baking powder, and salt. Add cubed
butter and combine with a pastry blender until the dough begins to form
crumbs. Using your hands, continue to work the dough until it begins to hold
together when squeezed.
Add beaten egg yolks and water and combine with a spoon or spatula until
the dough comes together in a ball. Cover and refrigerate for 30 minutes.
While the pastry dough is chilling, make the filling by peeling, coring, and thinly
slicing apples into an extra-large mixing bowl.
Combine the sugar, flour, 1 teaspoon cinnamon, 1 teaspoon nutmeg, and salt in
a small bowl and sprinkle over the sliced apples, tossing to coat.
Combine remaining 1 teaspoon cinnamon and 1 teaspoon nutmeg in a small
dish and set aside.
After dough is done chilling, preheat oven to 425 degrees F.
Divide the dough into 2 equal halves, one for the bottom crust and one for the
top. Roll out the dough for the bottom crust on a lightly floured surface or silpat
so that it's just slightly larger than the jelly roll pan (10-inch x 15-inch x 1-inch
pan). This will allow for the extra that you will need to crimp the crust edge
closed.
To easily transfer the crust to the jelly roll pan, use the rolling pin and roll the
crust back onto it.
Unroll the crust off the rolling pin and onto the jelly roll pan, allowing the extra
to drape over the sides and ends. If needed, press the crust into the corners.
Using a slotted spoon, add and evenly spread the apple filling into the
crust. There will be a lot of filling and the apples will seem like they're piled
quite high, but they will cook down during baking.
Sprinkle the additional cinnamon nutmeg mixture over the apple filling. Dot the
top of the filling with butter.
Roll out the second half of the dough in the same manner as the first half,
making sure to make the top crust big enough to cover the piled apple
filling. Transfer the top crust using the rolling pin method.
Pinch the edges of the crust together by rolling it and tucking it so that it is on
the inside edge of the jelly roll pan. Using the tines of a fork, press the 2 crusts
together and seal the edge all the way around. Prick the top of the crust with a
fork to allow the filling to vent during baking.
Place foil or a larger cookie sheet on the rack underneath the jelly roll pan to
catch any drips that may occur during baking.
Bake at 425℉ for 20 minutes and then reduce the oven temperature to 350℉
and bake for an additional 30 minutes. Cool completely before adding the icing.
For the icing, stir all ingredients together in a small bowl until smooth. Drizzle
over the top.
A few thoughts: You can use Pillsbury's ready-to-use pie crusts from the grocery store refrigerator case in place of making the crust. I use 2 packages, with 1 crust for the bottom and 2 for the top. (I have some crust lovers who eat at my table.) I use a variety of apples, like gala, honey crisp, and granny smith, and I always make about 50% more icing, because I love icing, even though it doesn't love me. I don't drizzle the icing, I cover the entire pie in icing.
Recipes by one of my favorite chefs – Dolester Miles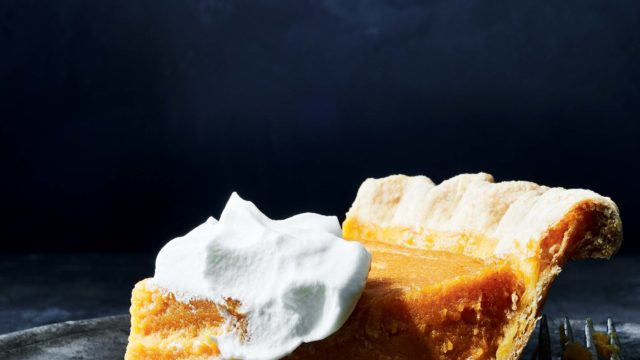 https://gardenandgun.com/recipe/sweet-potato-pie/embed/#?secret=Sk5GStRlZV#?secret=G2355SS4Pq
https://dukesmayo.com/pages/dolester-miles
https://patbranning.com/4-treasured-cookbooks/ Coconut pecan cake (AKA Slap Your Mama Cake)
https://dukesmayo.com/blogs/recipes/chocolate-expresso-cake-with-caramel-chocolate-ganache-buttercream-frosting
https://www.washingtonpost.com/recipes/dolester-miles-blueberry-cobbler/16656/ Blueberry Cobbler
https://www.washingtonpost.com/recipes/pear-and-almond-tart/16657/?utm_term=.93743745b2b7&itid=lk_interstitial_manual_41 Pear and Almond Tart
https://www.chicagotribune.com/dining/recipes/ct-recipe-lemon-meringue-tart-20220803-nugmd3gqvrgelakahu2j6fxfee-list.html Lemon Meringue Tart
https://www.birminghamrestaurants.com/Reviews/EntryId/488/Rolling-Dough-with-Dolester-Miles Strawberry Crostata
https://blue-kitchen.com/2022/01/12/chocolate-bundt-cake-bourbon-glaze/ Dol's Bourbon glaze
https://www.andalusiastarnews.com/2016/04/16/when-life-gives-you-lemons-make-lemon-bars/ Lemon Bars
https://www.bakefromscratch.com/bourbon-glazed-pound-cake/ Bourbon glazed pound cake
Chocolate Cravings Strike!
The BEST fudge brownies HERE OR
The (Almost) Best Fudge Brownies (this recipe is so much faster, but not quite as good) from Cafe Delites
Ingredients
1 cup 8oz/240g unsalted butter, melted and cooled (Use the highest fat butter you can find)
2 tablespoons (30ml) vegetable oil
1 1/4 cups (9oz/260g) white sugar
1 cup (7oz/200g) packed light brown sugar
4 (2oz/57g each) large eggs, at room temperature
1 tablespoon (15ml) pure vanilla extract
3/4 teaspoon salt
1 cup (3.5oz/130g) all-purpose flour
1 cup (3.5oz/100g) good quality, unsweetened cocoa powder
7 oz (200g) roughly chopped chocolate or large chocolate chips
Instructions
Preheat oven to 175°C | 350°F.
Lightly grease an 8×12-inch baking pan* with cooking oil spray. Line with parchment paper (or baking paper); set aside.
Combine melted butter, oil, and sugars together in a medium-sized bowl. Whisk well to combine. Add the eggs and vanilla; beat until lighter in color (another minute).
Sift in flour, cocoa powder, and salt. Gently fold the dry ingredients into the wet ingredients until JUST combined (do NOT overbeat as doing so will affect the texture of your brownies).
Fold in 3/4 of the chocolate pieces.
Pour batter into prepared pan, smoothing the top out evenly, and top with remaining chocolate pieces.
Bake for 25-30 minutes for just under-done brownies (fudgier texture) or until the centre of the brownies no longer jiggles and is JUST set to the touch.OR 35-40 minutes if you like your brownies well set and firm.NOTE: Brownies will continue baking and set in the hot pan out of the oven. If testing with a toothpick, the toothpick should come out dirty for fudge-textured brownies.
After 15-20 minutes, carefully remove them from the pan and allow them to cool to room temperature before slicing them into 16 brownies. They set while they cool. ENJOY!
OPTIONAL ADD-INS:
Crushed walnuts, peanuts (not for me), almonds, pecans, etc. Chocolate chips, peanut butter chips, shredded coconut, dried fruit [I like chocolate chips or chunks and/or toasted, chopped pecans, nothing else]
STORING:
Store at room temperature for 3 days, or refrigerator for up to 5 days. These brownies can also be frozen for up to 3 months. Thaw overnight in the refrigerator and bring to room temperature before serving OR reheat in the microwave.
Notes
*For thicker brownies, bake in a 7×11-inch pan for 40-45 minutes. For thinner brownies, bake in a 9×13-inch pan for 18-20 minutes.
PLEASE NOTE: An 8×12-inch pan bakes the most perfect brownies — thickness and texture.
TIPS AND TRICKS:
Do NOT overbeat your batter once the flour and cocoa powder are added. That creates air pockets in the batter which will give you cake-like textured brownies.
Please try not to overbake them. Set a timer if you need to. I like mine at exactly 23 minutes in an 8×12-inch pan. You can go a little bit over if you like them set a bit more, but I don't recommend it if you're looking for the fudgiest brownies in the world. Remember, they will continue to bake slightly in the hot pan once pulled out of the oven,
I bake my brownies on the top shelf in the oven. I find the middle shelf cooks them a lot faster, slightly burns them on the top, and dries them out.
Total Page Visits: 270 - Today Page Visits: 2