"A recipe has no soul. You, as the cook, must bring soul to the recipe."

– Thomas Keller
When I was a kid, I used to stop at a little bakery at the foot of the stairs leading up to the train that would take me downtown to the library. I saved my money just to buy a piece of this delish pie every Saturday. When I got older and began traveling, one of the joys of going to Germany was to stop at Kamp's bakery at the airport or train station and buy a piece or two of this same pie! This is the bomb!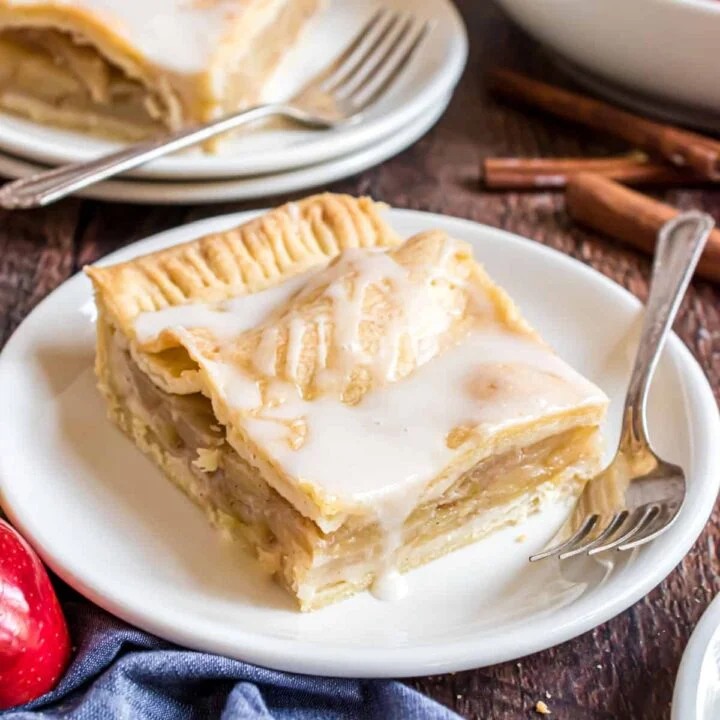 Ingredients
For the Pastry:
5 cups all-purpose flour, sifted
1 teaspoon baking powder
1 teaspoon kosher salt
1 ½ cups cold unsalted butter, cubed
3 large egg yolks, beaten
1 ¼ cup water
For the Filling:
12-14 apples (14 cups peeled, cored and sliced)
1 cup granulated sugar
⅓ cup all-purpose flour
Dash of kosher salt
2 teaspoons nutmeg, divided
2 teaspoons cinnamon, divided
4 Tablespoons unsalted butter, cubed
For the Icing:
1 cup powdered sugar
1 ½ Tablespoons milk (more to thin if necessary)
Dash kosher salt
½ teaspoon vanilla
Instructions
In a large mixing bowl, combine flour, baking powder, and salt. Add cubed
butter and combine with a pastry blender until the dough begins to form
crumbs. Using your hands, continue to work the dough until it begins to hold
together when squeezed.
Add beaten egg yolks and water and combine with a spoon or spatula until
the dough comes together in a ball. Cover and refrigerate for 30 minutes.
While the pastry dough is chilling, make the filling by peeling, coring, and thinly
slicing apples into an extra-large mixing bowl.
Combine the sugar, flour, 1 teaspoon cinnamon, 1 teaspoon nutmeg, and salt in
a small bowl and sprinkle over the sliced apples, tossing to coat.
Combine remaining 1 teaspoon cinnamon and 1 teaspoon nutmeg in a small
dish and set aside.
After dough is done chilling, preheat oven to 425 degrees F.
Divide the dough into 2 equal halves, one for the bottom crust and one for the
top. Roll out the dough for the bottom crust on a lightly floured surface or silpat
so that it's just slightly larger than the jelly roll pan (10-inch x 15-inch x 1-inch
pan). This will allow for the extra that you will need to crimp the crust edge
closed.
To easily transfer the crust to the jelly roll pan, use the rolling pin and roll the
crust back onto it.
Unroll the crust off the rolling pin and onto the jelly roll pan, allowing the extra
to drape over the sides and ends. If needed, press the crust into the corners.
Using a slotted spoon, add and evenly spread the apple filling into the
crust. There will be a lot of filling and the apples will seem like they're piled
quite high, but they will cook down during baking.
Sprinkle the additional cinnamon nutmeg mixture over the apple filling. Dot the
top of the filling with butter.
Roll out the second half of the dough in the same manner as the first half,
making sure to make the top crust big enough to cover the piled apple
filling. Transfer the top crust using the rolling pin method.
Pinch the edges of the crust together by rolling it and tucking it so that it is on
the inside edge of the jelly roll pan. Using the tines of a fork, press the 2 crusts
together and seal the edge all the way around. Prick the top of the crust with a
fork to allow the filling to vent during baking.
Place foil or a larger cookie sheet on the rack underneath the jelly roll pan to
catch any drips that may occur during baking.
Bake at 425℉ for 20 minutes and then reduce the oven temperature to 350℉
and bake for an additional 30 minutes. Cool completely before adding the icing.
For the icing, stir all ingredients together in a small bowl until smooth. Drizzle
over the top.
A few thoughts: You can use Pillsbury's ready-to-use pie crusts from the grocery store refrigerator case in place of making the crust. I use 2 packages, with 1 crust for the bottom and 2 for the top. (I have some crust lovers who eat at my table.) I use a variety of apples, like gala, honey crisp, and granny smith, and I always make about 50% more icing, because I love icing, even though it doesn't love me. I don't drizzle the icing, I cover the entire pie in icing.
Sarah Farmer – Taste Of Home Culinary Director
ASK SARAH
Q: WHAT CAN I USE IN PLACE OF EGGS?
With the price of eggs skyrocketing, we're all trying to use them more sparingly. And because of that, those cheesecakes and custards that call for four-plus eggs might be out of the question. Instead, opt for already-eggless desserts, which you'll find below. Or, if you really can't quiet those cake cravings, try these smart egg substitutes.
Chia seeds: 1 Tbsp. chia seeds, mixed with 3 Tbsp. water, equals 1 egg. Let the mixture sit for a few minutes until gelatinous.
Mashed banana: 1 mashed ripe banana equals 1 egg.
Applesauce: 1/4 cup applesauce—or pumpkin puree!—equals 1 egg.
Vinegar & baking soda: 1 tsp. baking soda, mixed with 1 Tbsp. apple cider vinegar or white distilled vinegar equals 1 egg.
Carbonated water: 1/4 cup carbonated water equals 1 egg. (Don't use as a replacement if recipe calls for more than 3 eggs.)
My Favorite Pound Cake
Ingredients
4 sticks of room-temperature unsalted butter (real butter, not vegan)
3 cups sugar
6 large or extra large eggs
4 cups flour, sifted then measured
2t. vanilla paste
2t. almond extract
1/2 c whole milk, half and half, or lite cream
Process (I use a stand mixer.)
Preheat the oven to 300F.
Grease and flour a 10-inch tube pan or spray with baking cooking spray. Don't forget to cover the tube. If you don't have a tube pan, use a bundt pan.
Set up your mixer or get your large mixing bowl and your handheld mixer.
Beat the butter until it is light and fluffy.
Add the sugar, 1/2 cup at a time, beating until incorporated before you add any more. You will have mixed it enough then a little bit rubbed between 2 fingers is smooth, so you can't feel the sugar.
Add the eggs, one at a time, and mix in until incorporated.
Add the vanilla and almond. Mix well.
Add the flour a bit ( about 1/2 cup) at a time, alternating with the milk. You can start with the mixer on very low because otherwise, the flour will be a flour cloud and not a cake ingredient. Add a small splash of milk and mix. Keep doing it this way and end with the flour. Do not overmix at this point.
Bake it for about 1 hour 30 minutes. Check for doneness with a toothpick. If it comes out dry and clean, you know the cake is ready. If not, bake for maybe 10 minutes more, then check again.
Cool the cake in the pan for 15-20 minutes, then remove the side of the pan and let cool a bit more. Using a rack, invert the cake with the rack over the cake and if you greased and floured enough, the cake should slide right off the tube.
GREEK YOGURT CAKE BASE
12 Tbsp unsalted butter
1½ cups granulated sugar
3 large eggs
1½ tsp vanilla extract
1¼ cups Greek yogurt
2½ cups cake flour
2 tsp baking powder
½ tsp baking soda
½ tsp salt

CINNAMON STREUSEL
1/3 cup light brown sugar, packed
2/3 cup all-purpose flour
1 1/2 tsp ground cinnamon
1/4 tsp salt
4 Tbsp unsalted cold butter, cubed
Preheat oven to 325°F.
STEP 01: Preheat oven to 325°F.
STEP 02: In a large bowl, mix together room temperature butter and sugar. It should be light and fluffy; do not over whip.
STEP 03: Stop and scrape down the sides and bottom of bowl.
STEP 04: Now add in 1 egg at a time, mixing in between each addition. Stop and scrape down the sides and bottom of bowl.
STEP 05: Combine the vanilla extract and Greek yogurt.
STEP 06: In a separate bowl, combine the flour, baking powder, baking soda and salt.
STEP 07: Add ⅓ of the flour mixture to the egg mixture, followed by ⅓ of the yogurt mixture. Repeat 2 more times until all the ingredients are incorporated.
STEP 08: Combine all cinnamon streusel ingredients with a fork until they reach a crumbly consistency, do not over mix into paste.
STEP 09: Fill ⅓ of a greased muffin tin or mini loaf pan with batter, sprinkle thin layer of cinnamon streusel mixture on top of batter, then repeat process one more time so that muffin tin or loaf pan is ⅔ filled with streusel on top.
STEP 10: Bake for 12–15 minutes, let cool, then serve and enjoy.
Chicken Pot Pie
Ingredients
1/3 cup butter
1/3 cup all-purpose flour
1 garlic clove, minced or 1 t. garlic paste
1-1/2 cups water
1/4 t. pepper or about 8 grinds of pepper mill
2/3 cup milk
2 teaspoons "Better than Bouillon" roasted chicken base or 2 bouillon cubes
2 cups cubed cooked chicken (from my leftover rotisserie chicken)
1 cup frozen mixed vegetables
PASTRY:
1-2/3 cups all-purpose flour
2 teaspoons celery seed
8 ounces cream cheese, cubed
1/3 cup really cold butter
Directions
1. Preheat oven to 425°. In a saucepan, melt butter over medium heat. Stir in flour, garlic, and pepper until blended. Gradually stir in water, milk, and bouillon base or cubes. (If you use cubes, smash them into powder first.) Gradually bring to a boil while stirring; cook and stir until thickened, 1-2 minutes. Remove from the heat. Stir in chicken and vegetables; set aside.
2. For pastry, in a large bowl, combine flour and celery seed. Cut in cream cheese and butter until crumbly. Work mixture by hand until dough forms a ball. On a lightly floured surface, roll two-thirds of dough into a 12-in. square. Transfer to an 8-in. square baking dish. Pour filling into crust. Roll remaining dough into 9-in. square; place over filling. Trim, seal and flute edges. Cut slits in pastry.
3. Bake until crust is golden brown and filling is bubbly, 30-35 minutes.
Game Day Food
Recipes by one of my favorite chefs – Dolester Miles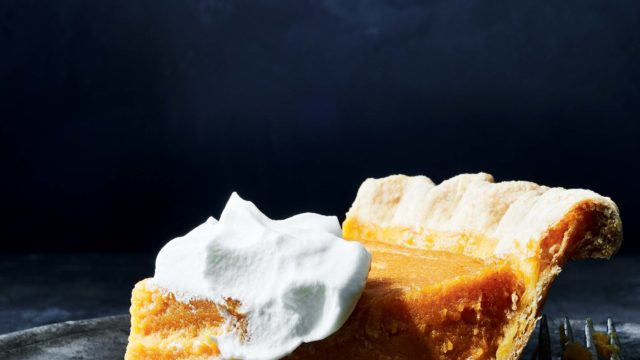 https://gardenandgun.com/recipe/sweet-potato-pie/embed/#?secret=Sk5GStRlZV#?secret=G2355SS4Pq
https://dukesmayo.com/pages/dolester-miles
https://patbranning.com/4-treasured-cookbooks/ Coconut pecan cake (AKA Slap Your Mama Cake)
https://dukesmayo.com/blogs/recipes/chocolate-expresso-cake-with-caramel-chocolate-ganache-buttercream-frosting
https://www.washingtonpost.com/recipes/dolester-miles-blueberry-cobbler/16656/ Blueberry Cobbler
https://www.washingtonpost.com/recipes/pear-and-almond-tart/16657/?utm_term=.93743745b2b7&itid=lk_interstitial_manual_41 Pear and Almond Tart
https://www.chicagotribune.com/dining/recipes/ct-recipe-lemon-meringue-tart-20220803-nugmd3gqvrgelakahu2j6fxfee-list.html Lemon Meringue Tart
https://www.birminghamrestaurants.com/Reviews/EntryId/488/Rolling-Dough-with-Dolester-Miles Strawberry Crostata
https://blue-kitchen.com/2022/01/12/chocolate-bundt-cake-bourbon-glaze/ Dol's Bourbon glaze
https://www.andalusiastarnews.com/2016/04/16/when-life-gives-you-lemons-make-lemon-bars/ Lemon Bars
https://www.bakefromscratch.com/bourbon-glazed-pound-cake/ Bourbon glazed pound cake
Chocolate Cravings Strike!
The BEST fudge brownies HERE OR
The (Almost) Best Fudge Brownies (this recipe is so much faster, but not quite as good) from Cafe Delites
Ingredients
1 cup 8oz/240g unsalted butter, melted and cooled (Use the highest fat butter you can find)
2 tablespoons (30ml) vegetable oil
1 1/4 cups (9oz/260g) white sugar
1 cup (7oz/200g) packed light brown sugar
4 (2oz/57g each) large eggs, at room temperature
1 tablespoon (15ml) pure vanilla extract
3/4 teaspoon salt
1 cup (3.5oz/130g) all-purpose flour
1 cup (3.5oz/100g) good quality, unsweetened cocoa powder
7 oz (200g) roughly chopped chocolate or large chocolate chips
Instructions
Preheat oven to 175°C | 350°F.
Lightly grease an 8×12-inch baking pan* with cooking oil spray. Line with parchment paper (or baking paper); set aside.
Combine melted butter, oil, and sugars together in a medium-sized bowl. Whisk well to combine. Add the eggs and vanilla; beat until lighter in color (another minute).
Sift in flour, cocoa powder, and salt. Gently fold the dry ingredients into the wet ingredients until JUST combined (do NOT overbeat as doing so will affect the texture of your brownies).
Fold in 3/4 of the chocolate pieces.
Pour batter into prepared pan, smoothing the top out evenly, and top with remaining chocolate pieces.
Bake for 25-30 minutes for just under-done brownies (fudgier texture) or until the centre of the brownies no longer jiggles and is JUST set to the touch.OR 35-40 minutes if you like your brownies well set and firm.NOTE: Brownies will continue baking and set in the hot pan out of the oven. If testing with a toothpick, the toothpick should come out dirty for fudge-textured brownies.
After 15-20 minutes, carefully remove them from the pan and allow them to cool to room temperature before slicing them into 16 brownies. They set while they cool. ENJOY!
OPTIONAL ADD-INS:
Crushed walnuts, peanuts (not for me), almonds, pecans, etc. Chocolate chips, peanut butter chips, shredded coconut, dried fruit [I like chocolate chips or chunks and/or toasted, chopped pecans, nothing else]
STORING:
Store at room temperature for 3 days, or refrigerator for up to 5 days. These brownies can also be frozen for up to 3 months. Thaw overnight in the refrigerator and bring to room temperature before serving OR reheat in the microwave.
Notes
*For thicker brownies, bake in a 7×11-inch pan for 40-45 minutes. For thinner brownies, bake in a 9×13-inch pan for 18-20 minutes.
PLEASE NOTE: An 8×12-inch pan bakes the most perfect brownies — thickness and texture.
TIPS AND TRICKS:
Do NOT overbeat your batter once the flour and cocoa powder are added. That creates air pockets in the batter which will give you cake-like textured brownies.
Please try not to overbake them. Set a timer if you need to. I like mine at exactly 23 minutes in an 8×12-inch pan. You can go a little bit over if you like them set a bit more, but I don't recommend it if you're looking for the fudgiest brownies in the world. Remember, they will continue to bake slightly in the hot pan once pulled out of the oven,
I bake my brownies on the top shelf in the oven. I find the middle shelf cooks them a lot faster, slightly burns them on the top, and dries them out.
Total Page Visits: 154 - Today Page Visits: 1