Women's history is American history. Black history is American history. Asian history is American history. Native American history is undoubtedly American history. So what is this crap they are teaching in schools as American history? Read more here. What should be taught? Read what the American Historical Association thinks here.
6888TH CENTRAL POSTAL DIRECTORY BATTALION
According to Kimberly Guise, the National WWII Museum senior curator, more than 3.3 billion pieces of mail went through military postal services to reach the front during 1945 alone. The sheer abundance of mail and a reported shortage of qualified postal officers to sort it led to a massive backlog of letters and packages, some of which were mailed up to three years prior. (more)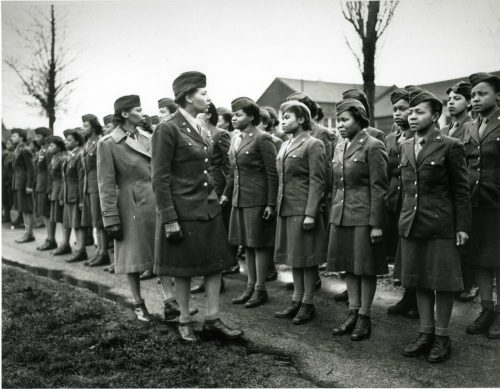 An army unit known as the "Six Triple Eight" had a specific mission in World War II: to sort and clear a two-year backlog of mail for Americans stationed in Europe. Between the Army, Navy, Air Force, the Red Cross and uniformed civilian specialists, that amounted to seven million people waiting for mail.
And the responsibility to deliver all of it fell on the shoulders of 855 African-American women.
(more)
The Codebreaker
Based on the book The Woman Who Smashed Codes: A True Story of Love, Spies, and the Unlikely Heroine Who Outwitted America's Enemies, The Codebreaker reveals the fascinating story of Elizebeth Smith Friedman, the groundbreaking cryptanalyst whose painstaking work to decode thousands of messages for the U.S. government would send infamous gangsters to prison in the 1930s and bring down a massive, near-invisible Nazi spy ring in WWII. 
A few historical events which might not be taught today:
1513 Spanish exploration and colonization of the New World
1921 Tulsa Race Massacre
1878 Henrietta Wood wins restitution
Virginia Hall, WWII hero
1871 Los Angeles Chinese Massacre
Bacon's Rebellion of 1676
The Carolina Gold Rush of 1799
The Final Fight for Black Sailors Known as the 'Philadelphia 15'
Just over a year before the attack on Pearl Harbor, 15 sailors assigned to the U.S.S. Philadelphia wrote a letter to a Black newspaper detailing the abuse and indignities they had faced on the warship solely because of the color of their skin. or daring to speak out, a few of the men were jailed and all of them were kicked out of the Navy with discharges that forever labeled them as unfit to serve. The plight of the group, which became known as "the Philadelphia 15," faded from public attention as World War II erupted. (more)
WOMAN-OWNED BOOKSTORES TO SHOP
Don't let mammoth/online booksellers put our independent, women-owned bookstores out of business.
Papercuts, Boston
Parnassus Books, Nashville
Semicolon, Chicago
Broadway Books, Portland
BookWoman, Austin
Medu Bookstore, Atlanta
People Get Ready, New Haven
Turning Page Bookshop, Goose Creek, SC (Charleston)
Enda's Booktique, Duncanville, TX
Shop Black-Owned Bookstores
Don't let mammoth and online booksellers put our independent, black-owned bookstores out of business.
Reading Lists for Children and Adults
Remember, we're being eliminated from public school curricula and libraries, so do your part. Educate a child (or an adult) today!
I love crosswords and usually do the Times puzzle most days. Then I found the Black Crossword.
Total Page Visits: 169 - Today Page Visits: 1