My Favorite Things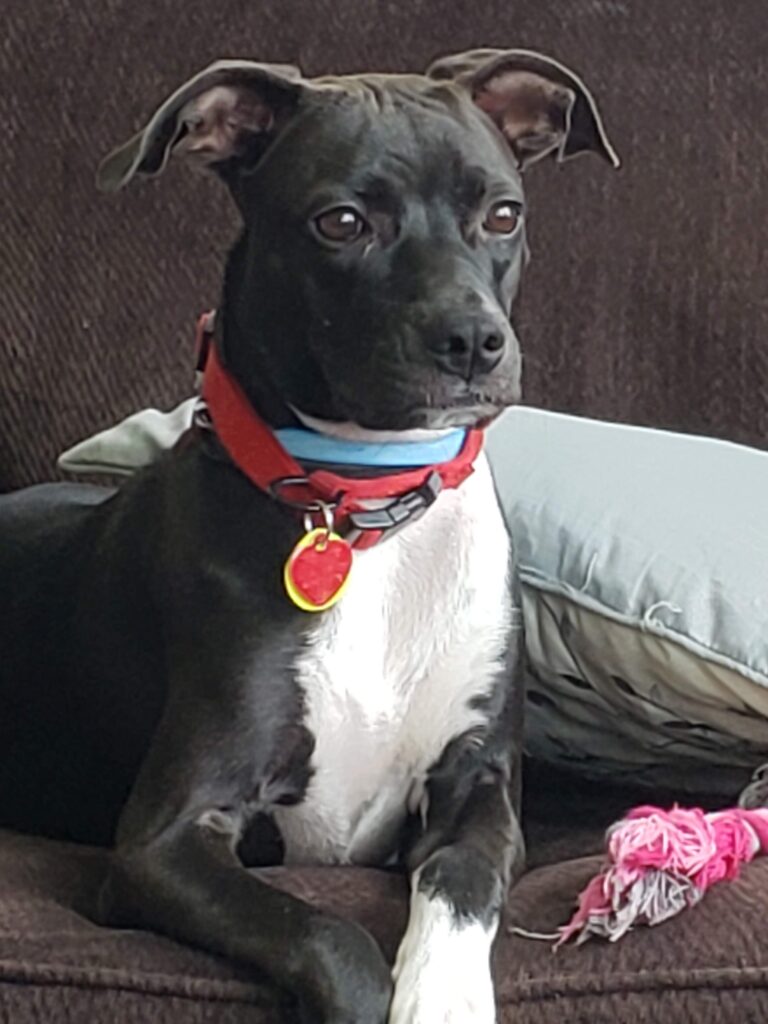 Learn More. Scroll down the page. Lots of new info.
Let's get away from politics for a bit.

Coronavirus cases: 23,130,000 COVID-19 deaths: 385,406

Kintsugi 1/13/21
15 Things to Bake When It's Too Cold to Go Outside
By Hayley Sugg December 30, 2020
For my friends in Colorado, Illinois, Ohio, Alaska, and Utah.
Bread Pudding with Warm Vanilla Sauce
Chocolate Lava Cake
Banana Bread
Pear Cobbler
Read recipes HERE.
Suze Orman Says These Are The Biggest Money No-Nos
By Esther Trattner April. 07, 2020
Here are 34 major money don'ts — straight from the expert.
Don't be too quick to buy a home
Don't lease a car
Don't cosign a loan
Don't put blind faith in a financial advisor
Don't let debt linger
Don't spend to impress others
Read the entire list HERE.
8 Cheap Beef Cuts So Good You'll Swear Off Ribeye
By Kimberly Holland Updated January 11, 2019
These eight beef cuts are incredibly flavorful, but they're unique and less likely to be spotted in your regular supermarket meats section. You may need to ask the butcher if they carry the cut or seek out a specialty butcher shop where your neighbor Joe (they're always named Joe, yes?) can become your new BBF (best beef friend).
Read the list HERE.
Tina Turner Knows 'We Can Feel Peace No Matter What'
By Alanna Nash January 8, 2021
From the editors (Sisters from AARP): The hair. Those legs. That voice. And chile, that strut. At 81, Tina Turner's life is so large, she's needed three books to tell her story — thus far. Which brings us to Turner's third book. In Happiness Becomes You, Turner turns the spotlight away from herself and talks about how each of us can live our best lives right now.
Q: The subtitle of your book is "A Guide to Changing Your Life for Good." What advice do you have for people who are not Buddhists like yourself, but who wish to do that?
TURNER: The purpose of this book is to uplift everyone, regardless of their beliefs or religion. I wrote it to be enjoyable and inspiring for all, whether or not they're familiar with Eastern wisdom. As I say in the book, you don't have to practice Buddhism to benefit from these principles and increase your joy. Many aspects of Eastern wisdom are common sense and are truly universal. For example, the Golden Rule taught in the Bible — "do unto others as you would have them do unto you" — that exactly aligns with the concept of karma, or cause and effect. The ancient principles that I share in my book belong to all humanity. I wrote this book to help anyone feel more hopeful for the future and experience greater peace of mind in the present.
Read the interview HERE.
Good Black News January 13, 2021
Today, Apple announced a set of major new projects as part of its $100 million Racial Equity and Justice Initiative (REJI) to help dismantle systemic barriers to opportunity and combat injustices faced by communities of color.
These efforts include the Propel Center, a first-of-its-kind global innovation and learning hub for Historically Black Colleges and Universities (HBCUs); an Apple Developer Academy to support coding and tech education for students in Detroit; and venture capital funding for Black and Brown entrepreneurs. Read article HERE.
A Shift in American Family Values Is Fueling Estrangement
Both parents and adult children often fail to recognize how profoundly the rules of family life have changed over the past half century.
JOSHUA COLEMAN JANUARY 10, 2021
Since I wrote my book When Parents Hurt, my practice has filled with mothers and fathers who want help healing the distance with their adult children and learning how to cope with the pain of losing them. However, my recent research—and my clinical work over the past four decades—has shown me that you can be a conscientious parent and your kid may still want nothing to do with you when they're older.
Read HERE and learn something.
Had to post this. Am so upset and concerned angry, I just can't write reasonably. For Christians, I say James 2:14-26 rather than "thoughts and prayers" or even outraged tweets and posts. I am getting my action plan together. I have no intention of preaching to the choir, I intend to sing to the world. I already vote, and I intend to let my voice be heard.

Coronavirus: 22,808,000 COVID-19 deaths: 377,777

Wild Cooking Woman 1/11/2021
By JAY REEVES, LISA MASCARO and CALVIN WOODWARD | The Associated Press January 11, 2021 at 7:15 a.m. | UPDATED: January 11, 2021 at 8:06 a.m.
WASHINGTON — Under battle flags bearing Donald Trump's name, the Capitol's attackers pinned a bloodied police officer in a doorway, his twisted face and screams captured on video. They mortally wounded another officer with a blunt weapon and body-slammed a third over a railing into the crowd.
"Hang Mike Pence!" the insurrectionists chanted as they pressed inside, beating police with pipes. They demanded House Speaker Nancy Pelosi's whereabouts, too. They hunted any and all lawmakers: "Where are they?" Outside, makeshift gallows stood, complete with sturdy wooden steps and the noose. Guns and pipe bombs had been stashed in the vicinity.
Only days later is the extent of the danger from one of the darkest episodes in American democracy coming into focus. The sinister nature of the assault has become evident, betraying the crowd as a force determined to occupy the inner sanctums of Congress and run down leaders — Trump's vice president and the Democratic House speaker among them.
Read here.
By Paul Blumenthal 01/10/2021 08:00 am ET
The ensuing riot led members of Congress to flee in gas masks after police deployed tear gas as an armed standoff took place between U.S. Capitol Police and rioters at the doors of the House Chamber. Confederate flags were paraded through the halls of Congress as rioters donned in tactical military gear and carrying zip-tie handcuffs, likely intended to be used to kidnap lawmakers, entered the Senate chamber. They screamed for Mike Pence's head after Trump denounced his own vice president in an audio message. Some wore sweatshirts bearing the message: "MAGA Civil War" and the date, "1.6.21."
On the grounds outside, rioters erected a giant wooden cross and a gallows with a noose.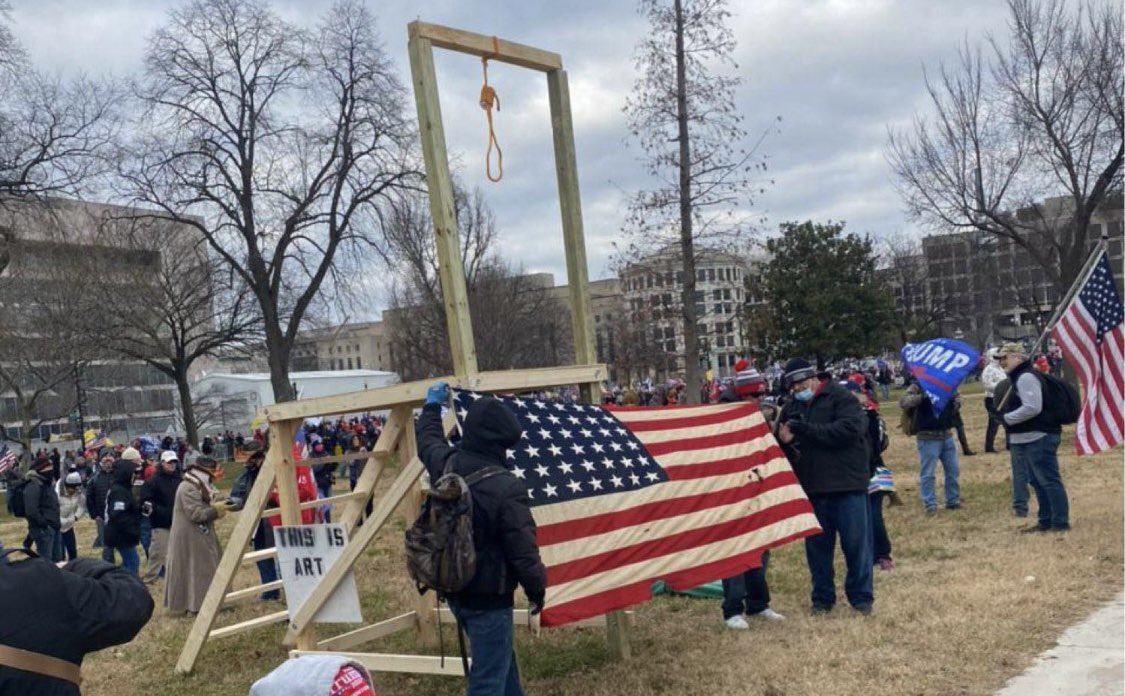 Reporters were beaten and threatened with death. Their cameras and equipment were smashed and burned.
Echoing Trump's long-standing calls that the press were the enemy of the people, rioters scrawled "Murder the media," on a Capitol doorway.
A rioter murdered a police officer with a fire extinguisher.
Another rioter was shot dead by a police officer while trying to break into House Speaker Nancy Pelosi's chambers. In perhaps the most indelible image, rioters commandeered a scaffold and used it to take down an American flag and replace it with a Trump "Make America Great Again" flag.
Across the globe and right here at home, millions of people are being exploited for profit. Human trafficking, also known as modern slavery, affected some 24.9 million people in 2016 (the most recent year for which we have comprehensive data) and is estimated to be one of the most profitable forms of transnational crime.
The 2009 UCC Synod Resolution and 2011 Disciples Assembly Resolution against human trafficking urge congregations to engage in action to end human trafficking and to recognize today, January 11, as Human Trafficking Awareness Day.
Resources for Human Trafficking Awareness Day and on human trafficking and specific actions you can take can be found here. Specifically, the 2019 Interfaith Toolkit on Human Trafficking provides background material as well as prayers and other faith and worship resources.
A list of Global Ministries' projects addressing human trafficking can be found here.
Stay tuned throughout this Human Trafficking Awareness Week to learn more and for specific opportunities to give, pray and advocate for an end to human trafficking.
We Tried Rotisserie Chickens From 6 Grocery Stores—Here's Our Favorite
By Sarra Sedghi 
The grocery store rotisserie chicken is queen in terms of convenience. The cooked bird is cheaper than a whole raw chicken and elevates the simplest meals. Most importantly, it gets the job done. Maybe it'll feed your family. Maybe you'll eat the entire thing yourself, sans silverware, over a period of days. Either way, life will be easier and more satisfying with a good rotisserie chicken by your side. Read HERE.
My personal favorite is from Costco.
From Good Black News
Journalist and political commentator Abby Phillip will become the anchor of CNN's "Inside Politics Sunday" from 8-9 a.m. ET on Sundays, beginning January 24th. Harvard grad Phillip has also been named the network's senior political correspondent. Read more HERE.
How to Delete 99 Percent of Your Digital Footprint
Joe McKinley Updated: Mar. 06, 2020
It is possible to make yourself "disappear" from the Internet, says Porch.com security expert Robert Siciliano. But, he warns in an informative post, there isn't an undo option for many of these tactics. But if you are sure that you want to stop the Googles and Facebooks of the world from knowing everything you've searched for and purchased online, or if you've had bad experiences with identity theft and cybercrime, these are some steps you can take to erase nearly your entire digital footprint. Even if you don't go this extreme route, you should definitely know some essential tips on how to prevent identity theft and other cyber scams.
Make sure you are removed entirely from data-broker services
Delete old email accounts
No more apps
Read HERE, then do something!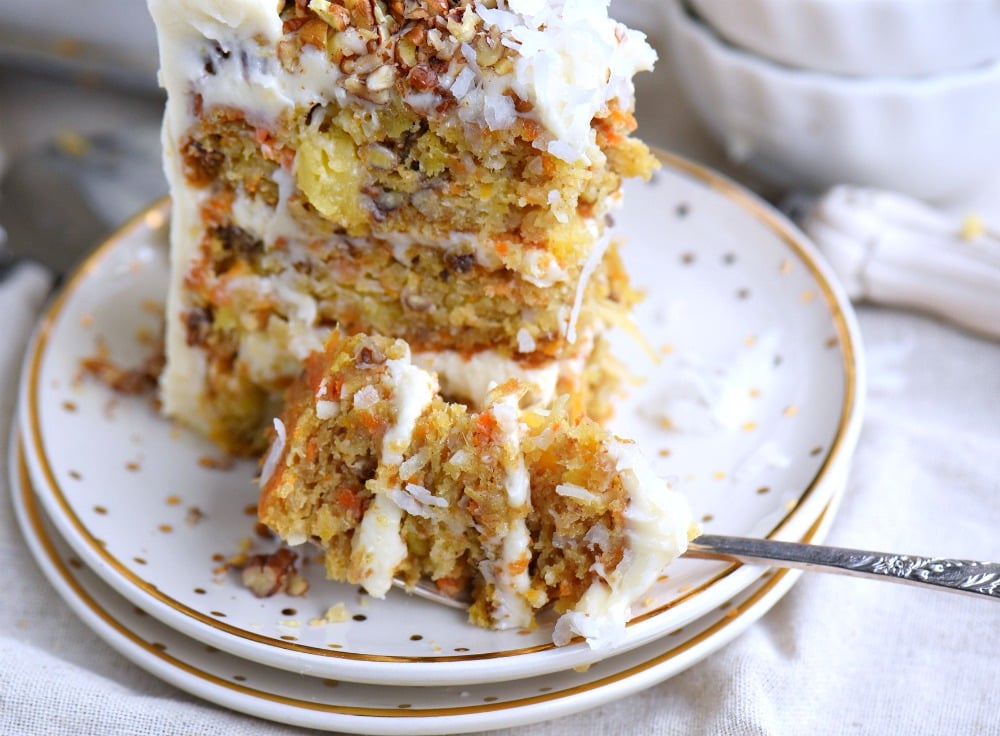 This To Die For Carrot Cake receives rave reviews for its unbelievable moistness and flavor! Truly the BEST CARROT CAKE you'll ever try! So easy to make and as an added bonus, there's no oil or butter! I know this cake will quickly become a family favorite!
Prep Time10 mins Cook Time25 mins Total ime35 mins Servings: 16 slices Calories: 499kcal Author: Trish – Mom On Timeout
Ingredients
Cake:
One
1 1/4 cups unsweetened applesauce or oil, this is what my Nana used (I prefer oil)
2 cups granulated sugar
3 eggs room temperature
Two
2 cups all-purpose flour
1 tsp baking soda
1 1/2 tsp baking powder
1/2 tsp salt
1 tsp cinnamon
Three
2 cups grated carrots
1 cup shredded sweetened coconut
1 cup chopped toasted pecans
1 tsp vanilla extract or vanilla paste
1 cup crushed undrained pineapple [use the pineapple in JUICE not syrup]
Cream Cheese Frosting:
1/2 cup butter softened
8 oz cream cheese softened
1 tsp vanilla
1 lb powdered sugar
top with toasted pecans or coconut if desired
Instructions
Preheat oven to 350 degrees.
Combine #1 ingredients. Add #2 ingredients. Stir in #3 ingredients.
Pour into a lightly greased 9 x 13 , two 9-inch pans or three 8-inch pans. (The cake is very moist so cutting parchment for the bottom of your pans will ensure they don't stick. I prefer to use the non-stick baking spray that has the flour in it for easy cake removal.)
Bake for 35-40 minutes for the 9×13 and 9-inch pans and 25-30 minutes for the 8-inch pans. You're looking for an inserted toothpick to come out clean.
Let cakes cool for 10 minutes in the pan and then remove to a cooling rack and let cool completely.
For the frosting:
Beat the butter and cream cheese until nice and fluffy. Add in the vanilla and powdered sugar and beat until nice and smooth.
Invert the cake onto a cake plate or stand.
Apply a generous dollop of frosting and spread…
Gently place the second layer on top and continue frosting. Repeat with the third layer if you made three.
Refrigerate for an hour before serving for best results.
Notes
The frosting recipe can be doubled if you are planning on piping a border and adding a lot of frosting decorations to the top of the cake.
8 Apps Security Experts Would Never Have on Their Phone
Lucie Turkel Updated: Jan. 04, 2021
Google Assistant
What's App
Facebook Messenger
Certain VPNs
Read more HERE
Right-wing bloviators are now claiming that the insurrectionists were protecting the capital from antifa. Watch this development as they try to rewrite the truth. There were only thugs who support 45 present at this insurrection yesterday. And that includes capitol police who allowed them into the building. I am old enough not to be surprised. 13 more days is too many. Who knows what might happen. Impeachment or invoking the 25th Amendment sounds good to me right now. Disbar those lawyers who filed frivolous lawsuits.

Wild Cooking Woman 1/7/2021
What We're Watching/Listening To
Music
I agree with some of these choices.
January is:
Here already???!!!
National Bath Safety Month
National Blood Donor Month
National Braille Literacy Month
National Hobby Month
Hot Tea Month
National Oatmeal Month
National Soup Month
Special Days
Letter Writing Week – 2nd week of January
1/11 – Human Trafficking Awareness Day
1/16 – Religious Freedom Day
1/18 – MLK birthday celebrated
1/18 – Winnie the Pooh Day
1/23 – Pie Day
What is Buddhism?
Buddhism is a non-theistic religion (no belief in a creator god), also considered a philosophy and a moral discipline, originating in India in the 6th and 5th centuries BCE. It was founded by the sage Siddhartha Gautama (the Buddha l. c. 563 – c. 483 BCE) who, according to legend, had been a Hindu prince before abandoning his position and wealth to become a spiritual ascetic and, finally, an enlightened being who taught others the means by which they could escape samsara, the cycle of suffering, rebirth, and death.
In his quest for a means to live without suffering, the Buddha recognized that life is constant change, nothing is permanent, but one could find inner peace through a spiritual discipline that recognized beauty in the transience of life while also preventing one from becoming ensnared by attachment to impermanent objects, people, and situations. His teaching centers on the Four Noble Truths, the Wheel of Becoming, and the Eightfold Path to form the foundation of Buddhist thought and these remain central to the different schools of Buddhism which continue in the modern day.
Four Noble Truths:
Life is suffering
The cause of suffering is craving
The end of suffering comes with an end to craving
There is a path which leads one away from craving and suffering
The Eightfold Path which serves as a guide to live one's life without the kind of attachment that guarantees suffering:
Right View
Right Intention
Right Speech
Right Action
Right Livelihood
Right Effort
Right Mindfulness
Right Concentration
The sacred book of Buddhism is called the Tripitaka (called Tipitaka in Pali). It is also called the Pali Canon, after the language in which it was first written. It is written in an ancient Indian language called Pali which is very close to the language that the Buddha himself spoke. Parts of the Tripitaka such as the Dhamma-pada and the Sutta-Nipata are among the most expressive religious books in the world. Some of Buddha's parables are very similar to those used by Jesus. The three sections of the Tripitaka (three baskets of Wisdom) are:
Vinaya Pitaka (the Discipline Basket) – A rule book for monks and nuns. There are 227 rules for monks and more for nuns.
Sutta Pitaka (the Teaching Basket)- The actual experiences of Buddha
Abhidhamma Pitaka (the Higher Doctrine Basket)- An explanation on the teaching of Buddha. Most of these are called Sutras.
Read more HERE and HERE and HERE.
The Revised Common Lectionary -scripture readings for Year B
Epiphany
Year B
First reading
Psalm
Second reading
Gospel
Second Sunday after the Epiphany
January 17, 2021
ART — PRAYER
1 Samuel 3:1-10, (11-20)
Psalm 139:1-6, 13-18
1 Corinthians 6:12-20
John 1:43-51
Third Sunday after the Epiphany
January 24, 2021
ART — PRAYER
Jonah 3:1-5, 10
Psalm 62:5-12
1 Corinthians 7:29-31
Mark 1:14-20
Fourth Sunday after the Epiphany
January 31, 2021
ART — PRAYER
Deuteronomy 18:15-20
Psalm 111
1 Corinthians 8:1-13
Mark 1:21-28
Presentation of the Lord
February 2, 2021
ART — PRAYER
Malachi 3:1-4
Psalm 84
or
Psalm 24:7-10
Hebrews 2:14-18
Luke 2:22-40
Fifth Sunday after the Epiphany
February 7, 2021
ART — PRAYER
Isaiah 40:21-31
Psalm 147:1-11, 20c
1 Corinthians 9:16-23
Mark 1:29-39
Transfiguration Sunday
February 14, 2021
(Last Sunday before Lent)
ART — PRAYER
2 Kings 2:1-12
Psalm 50:1-6
2 Corinthians 4:3-6
Mark 9:2-9
https://lectionary.library.vanderbilt.edu/
Who Am I?
I am once broken, now healed. Not the same, but beautiful. – Kintsugi
Total Page Visits: 5885 - Today Page Visits: 3