Just added Prophet Song by Paul Lynch, winner of the 2023 Booker Prize, to my pile. Charlie Munger died. So did Bishop Carlton Pearson. And Helen Williams. RIP. World AIDS Day is December 1.

Wild Cooking Woman 11/29/23
Musings…
We all know the media is biased. It may be impossible to have completely unbiased news coverage. Who and what we choose to cover is biased. Our adjectives and adverbs are biased. Want to see how biased your news sources are? Go to the interactive Media Bias Chart (it's much larger and easier to see!).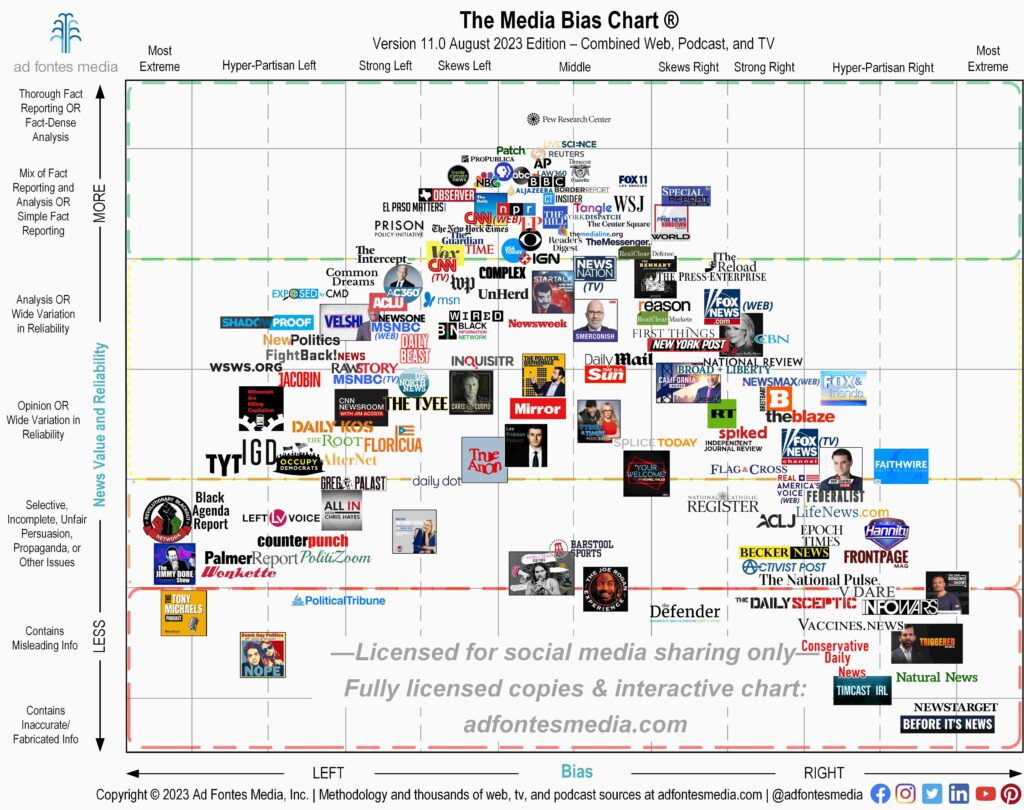 Where should you keep your condiments, pantry or fridge? Let Heinz settle the dispute for ketchup and the FoodKeeper app for most other things.
Watched Rosalynn Carter's funeral—such a well-loved and highly respected woman. RIP.
Tuesday, November 28 was Giving Tuesday, the annual event that occurs the Tuesday after Thanksgiving and encourages us to give to others on that day and all year round. "GivingTuesday is a movement that unleashes the power of Radical Generosity around the world. Whether it's making someone smile, helping a neighbor or stranger out, showing up for an issue or people we care about, or giving some of what we have to those who need our help, every act of generosity counts and everyone has something to give." Did you participate?
Breanna Stewart and Napheesa Collier are launching a women's basketball league called "Unrivaled" in January, the WNBA stars told ESPN. "We've all been talking and realizing that we're missing a moment, having a lot of our players be overseas or not playing basketball (during the offseason)," Stewart said to ESPN. "I think top players, they want to be playing, right? They want to be home, they want to be playing, but it has to make sense. It has to be right and the money has to be right. And I think that's what Unrivaled is trying to do." (More)
If you are a diabetic, you are at higher risk of heart disease. What are you doing to protect yourself from strokes and heart attacks? Go HERE for suggestions.
Did you try to get your passport renewed, and it still isn't back? Itching to travel anyway? Here are 10 places you won't need a passport to visit.
Do you hate to go to the gym? Some people don't and are healthy anyway. Go HERE for some habits of those folks.
We read a lot. This is the time of the year when lists of best/ notable/ hot stuff books are published. Here are 100 notable books for 2023, according to the New York Times. This is the Amazon.com list of the best books of 2023. Time Magazine's 100 Must-Read Books of 2023 cover some of the same territory. USA Today suggests 15 books by Black authors to read in 2023. Check out the African American Literature Book Club for more suggestions. NPR's Books We Love for 2023 is loaded with fiction and non-fiction choices from all kinds of people – and a few cookbooks, too. Finally, Oprah's list.
Are you multi-lingual? I don't mean code-switching kind of lingual (although that might count in certain places) but different country/culture kind of lingual. English is the dominant language spoken in the USA, with Spanish coming in at #2 and Chinese a distant 3rd. If you speak more than one language, you know that when something is translated from one language to another, many subtleties and cultural associations are inevitably lost in the process. Here are some non-English words you may enjoy.
Do you often feel that itch at the back of your neck that tells you someone is watching you? Have you ever looked around but no one was there? Maybe you were being observed! Here are some places where there might be hidden cameras.
Do you have a lot on your mind? Problems that are completely overwhelming, like 2 pints of ice cream and a whole cake overwhelming? Is your stuff too personal to talk about with your peeps? You know your mom/dad/g-mom will never forgive the other person (even if you do), so you'd rather not share with them? Try therapy! Why therapy? a) Your business stays your business! When your former BFF gets mad at you, this is stuff she won't be able to share on social media, because she won't know it! b) Therapists can help you find ways to deal with your sh*t. c) Therapists can help you learn to communicate better, which is often at the heart of many of those ice cream and cake situations. And finally d) therapy can empower you to make changes to situations or relationships that you seem stuck on or in.
I found this article after a trip to the dermatologist and 2 expensive prescriptions. I Have Natural Hair and an Itchy Scalp—Here Are the Products That Actually Work Sigh! I tried the shampoo and my own homemade conditioner, and guess what, it works for me! Check it out with your own medical professional, please, because this is not medical advice.
Author Sarah Kieffer (from The Vanilla Bean Blog. Sarah is the author of three cookbooks and creator of the popular Pan-banging Chocolate Chip Cookie recipe. She lives in Minneapolis and loves baking and listening to Ella Fitzgerald.) Be sure and look at her website for pictures. That makes it much easier.
Ingredients
3/4 cup whole milk warm (100-110F)
1 large egg, room temperature
2 large egg yolks, room temperature
1 teaspoon pure vanilla extract
2 1/2 cups (355g) all-purpose flour
2 1/4 teaspoons instant yeast
2 tablespoons sugar
1 teaspoon salt
4 tablespoons (1/2 stick | 57g) European style butter, room temperature
12 tablespoons (1 1/2 sticks | 170g) European style butter, cold, cut in 1/2-inch pieces
Apple Jelly or Apple Butter (apple butter tastes better)
Cream Cheese Filling
6 ounces cream cheese, room temperature
1/4 cup sugar
Pinch salt
1/2 teaspoon pure vanilla extract
1/2-1 teaspoon lemon juice
Glaze
1 cup confectioner's sugar
2-4 tablespoons whole milk or heavy cream
1/2 teaspoon pure vanilla extract
Pinch salt
1/4 to 1/2 teaspoon lemon juice
1 tablespoon creme fraiche, optional
Instructions
For the easy Danish dough
Grease a large bowl.
In a large liquid measuring cup, combine the milk, egg, yolks, and vanilla.
In the bowl of a stand mixer fitted with a paddle, mix the flour, yeast, sugar, and salt on low. Add the room-temperature butter and mix on low until it is incorporated into the flour and no pieces are visible. Add the cold butter and mix on low, until it is broken down and smashed a bit, but still in 1/2-inch pieces. Add the milk mixture and mix on low until combined. The dough will be very sticky and there will be visible lumps of butter. Using a spatula, scrape the dough into the prepared bowl and cover tightly with plastic wrap, and refrigerate overnight, or for up to 3 days.
The next morning, transfer the dough to a well-floured work surface. Knead 10-12 times, until the dough forms a ball. Cover the top lightly with flour and cover it with a tea towel, let rest until it comes to room temperature. Pat the dough into a 6-inch square and roll into a 16 by 20-inch rectangle. If the dough sticks at all, sprinkle more flour underneath it. Brush any excess flour off the dough, and, using a bench scraper, fold the short ends of the dough over the middle to make three layers, similar to a business letter. This is the first turn.
Flip the dough over (seam side down) and roll into an 8 x 16-inch rectangle. Fold the short ends over the middle, business letter style. Repeat the steps again, for a total of four turns.
On the last turn, gently use the rolling pin to compress the layers together slightly. Wrap the dough tightly in plastic wrap and chill for at least 1 hour before using or keep refrigerated for 2 days.
For the cream cheese filling
In the bowl of a stand mixer fitted with a paddle, beat the cream cheese on medium speed until smooth. Scrape down the sides of the bowl and add the sugar, salt, vanilla, and 1/2 teaspoon of lemon juice and mix on low until completely combined. Taste the filling, and add a little more lemon juice if the flavor is dull. (The filling shouldn't taste like lemon, but a little bit of lemon juice will add a bright note to the filling. When tasting, look for a bit of a zing in your mouth that doesn't scream lemon.) Cover the filling and set aside until ready to use.
For the glaze
In a medium bowl, whisk together the confectioner's sugar, 2 tablespoons milk, vanilla, and salt (if using the creme fraiche, add here, too). Add more milk, 1 tablespoon at a time, to thin the icing to a preferred consistency. Add 1/4 teaspoon lemon juice, and taste for brightness (add more if needed, but again, you don't want a lemon flavor here).
To assemble
Cut the Danish dough into two equal pieces. Roll the first piece of dough into a 10 x 14-inch rectangle, using enough flour so the dough doesn't stick to the surface or the rolling pin. Transfer the piece of dough to a piece of parchment paper (this will make moving the braid much easier). Spread half of the cream cheese filling down the center of the dough, about 1 1/2 inches wide. Top the cream cheese with about 3/4 cup of the apple jelly. Carefully cut 1/2-inch thick strips of dough (a pastry cutter works best here), doing your best to make the strips even and equal on both sides. Starting with the top two pieces, gently twist then cross the pieces over the top of the filling. Continue the same motion of twisting the pieces and crossing them all the way down the braid. When you get to the end of the braid, tuck the loose ends underneath the braid (this way they won't pop out when baking). Repeat with the second piece of dough.
Move the braids (on the parchment) to baking sheets, and cover loosely with plastic wrap. Let the Danish braid rise until puffy (similar to a marshmallow when pressed), about 1 1/2 hours.
Adjust an oven rack to the lower middle position. Preheat the oven to 350F. (I like to bake mine one at a time, but you could bake them together – adjust oven racks instead to upper and lower middle positions, then rotate sheets to opposite oven racks halfway through baking.
Lightly brush the braids with egg wash. Bake for 25-30 minutes, until golden brown. Transfer the baking sheets to a wire rack and let cool slightly. Drizzle the braids with the glaze.
I was thinking about traveling but got sidetracked by 2 things: bad weather and this ugly, deadly canine respiratory illness that is going around. I have no interest in snow storms and don't want to send my baby to "camp" where she might get sick. According to Lindsey Ganzer, a Colorado veterinarian, "symptoms include fever, cough, lack of appetite, eye and nose discharge, sneezing and difficulty breathing. Most cases start out looking like kennel cough, a common and highly treatable disease. It progresses to pneumonia (visible on X-rays) and severe respiratory distress. The disease generally does not appear to respond to antibiotics." So I am at home, and that's OK.
Total Page Visits: 67058 - Today Page Visits: 77