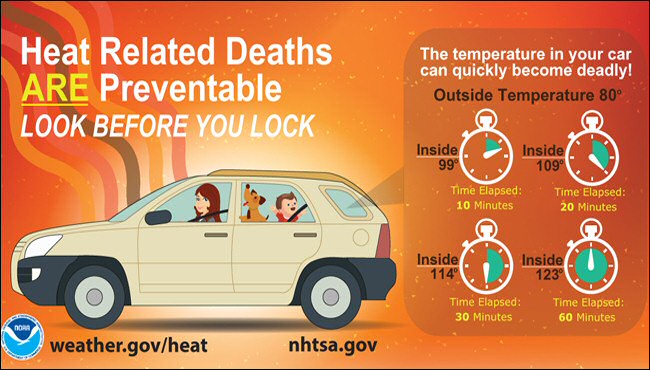 Here are some ways to avoid locking or leaving your child in the car:
Don't let your child play with your keys. Make sure to keep keys out of your child's reach.
Keep keys with you at all times to prevent them from getting locked inside the car. Think about an easy way to carry your keys, like a lanyard.
Newer cars often have self-locking features. Put windows down before putting children in the car in case the car automatically locks.
Talk to your child about not playing with the buttons inside the car.
Always keep your car locked when you're not in the car so your child doesn't get in on her own.
If you can't find a child, always check the car in case the child is hiding inside.
Take Care of Your Animals
Watch out for overheating.
Provide plenty of cool, fresh water. Add ice if needed.
Provide shade for outside animals. A dog house isn't good, because air cannot flow through it. A tarp or shade tree is better.
Animals are at particular risk for heatstroke if they are very old, very young, overweight, not conditioned to prolonged exercise, or have heart or respiratory disease
Total Page Visits: 152 - Today Page Visits: 1