Aldous Pennyfarthing and Daily Kos May 16, 2021
The dude who hosted what may be the most infuriating photo op during the events of Jan. 6—the brandishing of a flagpole with an ugly racist hate symbol, a flag that never made it to the Capitol during the war of its origin—is facing both justice and a little R&R, courtesy of our very understanding criminal justice system. Read the article HERE.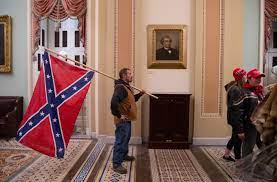 From Business Insider:
The man pictured walking through the US Capitol holding a massive Confederate flag during the January 6 insurrection is about to head on a family road trip after a judge approved the vacation earlier this month.
Kevin Seefried is allowed to take his scheduled family trip to Salvo, North Carolina, on May 15, returning to Delaware on May 22, according to court documents.

His son, Hunter Seefried, was also charged in the Capitol siege; he too got approval to travel for the trip.
Total Page Visits: 27 - Today Page Visits: 1